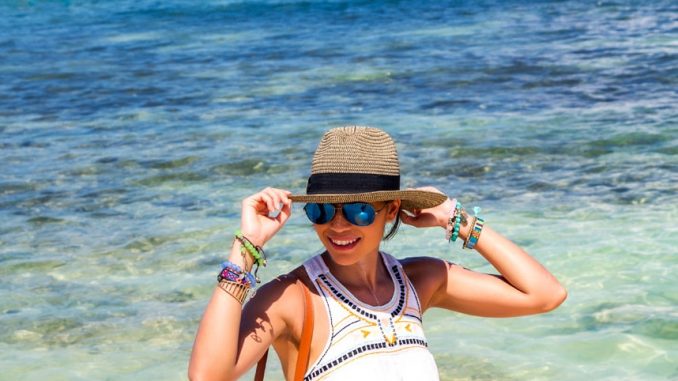 You'll find a lot of style blogs that talk about the latest trends, what's hot now, what's no longer in style, and what's now "in" and what's out. Since I'm not big on trends, or on purchasing clothing that has an expiration date, I want to share with you 11 summer fashion tips that will never go out of style. Think classic style, not trends. These style tips will work year after year.
LIGHT COLORS ARE BETTER THAN DARK
Not only will lighter colors keep you cooler (black absorbs more heat), but they also have a better summer vibe. I mean you could wear dark colors such as black, charcoal, violet, or dark blue, but it doesn't have that light airy feel that is synonymous with summer.
NATURAL MAKEUP IS BEST
If you ask me, nothing is worse than wearing a ton of makeup on a hot summer day. Light and natural makeup is the way to go during the summer season. Put away the heavy black eyeliner, dark shadows, heavy foundation, and dark lipstick. Instead wear pretty neutral eyeshadows, tinted moisturizers and nude, pink, or rose stains and tinted balms.
As for foundation, unless you're going to a summer event, wear a tinted moisturizer. To add that gorgeous summer glow add a touch of liquid highlighter to your summer makeup routine. Just dab a bit of highlighter to the tops of your cheekbones, brow bones, and the bridge of your nose.
FLOWY TOPS, DRESSES & SKIRTS ARE BETTER THAN FORM-FITTING
The summer calls for light fabrics that float in the wind. To give off the summer lovin' vibe, opt for flowy clothing instead of anything that is skin tight. Find clothing made in light cotton, silk, chiffon, lace or crochet. This applies to everything: dresses, skirts, tops, rompers, and even shorts.
I advise this for two reasons. First, summer is hot and wearing clothing that is very form fitting will make you and your clothes sweaty. Secondly, flowy clothing and summer go hand in hand.
OFF-THE-SHOULDER TOPS AND DRESSES ARE ALWAYS SEXY
Every couple of years off-the-shoulder clothing becomes popular. All the stores have them in stock and everyone is wearing them. But off-the-shoulder tops and dresses are stylish every summer. Don't think of them as trendy or disposable, because they really are a fashion staple that you can wear every year.
I have a few off-the-shoulder dresses that I pull out every summer and I'm always adding new ones to my wardrobe. They are great pieces for achieving that easy summer style.
IF YOU ONLY HAVE ONE HANDBAG, GO WITH A NEUTRAL BROWN
If you're only going to invest in one handbag for summer go with a neutral earth-tone brown. Look for a summer handbag that is not that structured and that you'll want to wear over many summers.
This summer I'm wearing the handbag in this outfit post. It's my summer go-to bag, goes with every summer outfit I own, and I know I'll wear it again next summer.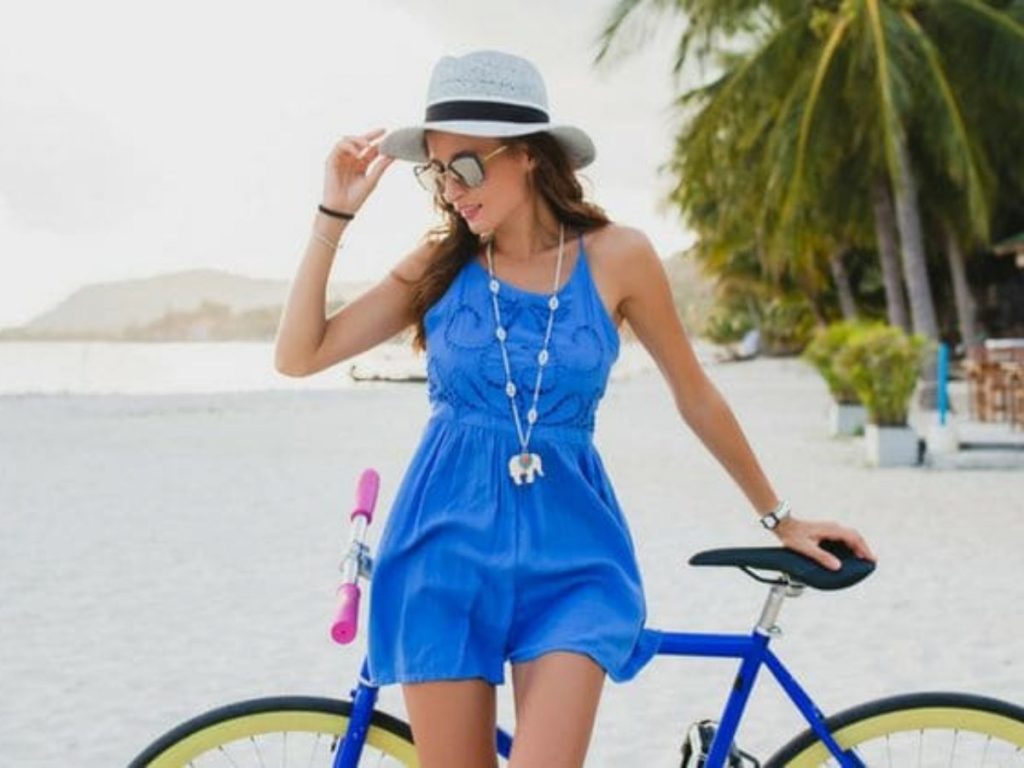 AVIATORS ARE AWESOME
Looking for the perfect pair of summer sunnies but don't want to buy something that will go out of style by the time Labor Day comes around? If your face shape allows it, buy a pair of aviators.
They have always been in style and will always be stylish. The shape is timeless and looks good on both men and women. I bought the blue aviators I'm wearing in this outfit post in January and have been wearing them all the time.
HATS ARE A GOOD IDEA
Everyone should own a hat!If you don't own one it's probably because you haven't found the perfect one for you! They not only make a stylish summer statement but they also protect your face from the harmful sun rays.