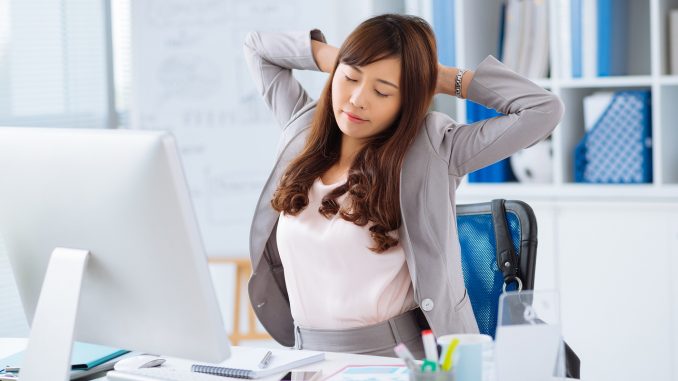 Regardless of lack of exercise or regular exercise, you should stretch your muscles! In fact, normal adults should stretch their bodies every day to reduce the occurrence of pain and fatigue. If you are sitting and working in the same posture for a long time, it is especially necessary to stretch the shoulder and neck to relieve the shoulder and neck pain. If you want to have a "swan neck", improve cold back, and head leaning problem, in addition to visiting Hong Kong massage recommendations, some simple stretching exercises or shoulder scapular repositioning exercises can be practiced at home to correct the wrong posture!
OL because of the need to fix the same movement for a long time at work, plus incorrect sitting posture, head leaning forward and cold back, it makes the sides of the shoulder and neck appear tight, in addition to the pain, it also affects the movement of the shoulder and neck Range, when you twist your head or raise your hand, you will feel uncomfortable and limited, and this will affect your daily life in the long run. Many people will use the lymphatic method to relieve the sore shoulders, necks and shoulders. In addition, everyone can also achieve the same soothing effect through a simple stretch method.
The registered stretching instructor of the Hong Kong Stretch Exercise Society, Jan Cho, said that the tightened muscles should return to their previous comfortable state after a full rest. If the muscles are stretched for a long time, the body will not know how to relax. Make the body muscle imbalance.
With proper stretching, it can help to stretch the tight muscles again, slowly restore the length and elasticity of the muscles, improve blood circulation, and relieve shoulder and neck pain.
Jan recommends that OLs have to move their bodies every 2 hours while working in the office, and take a few minutes to do the following 5 stretching exercises:
Relieve shoulder and neck pain, stretching action: left and right neck
Sit up in a chair with your chest tucked up, press your right hand over the top of your head and press the top of your left ear, then turn your head to the right, and your left arm sinks, maintaining your movement for 12-15 seconds, taking 3-5 breaths, then restoring. Repeat the action on the other side. Left and right side neck 3-4 times.
Sit up with your chest and sit on the chair with your head in a horizontal state, then slowly turn your neck to the right to the end for 10-12 seconds, then restore, and then slowly turn your neck to the end to the left, Also maintain for 10-12 seconds and then restore. Repeat the action 4-5 times.
Relieve shoulder, neck, and shoulder pain
This action is like when we stretch out to get close to the waist when we get up, first sit on the chair with chest and belly, and then double-buckle your fingers with both hands, the palms of your hands are reversed, and put your hands straight on top of your head. -8 seconds, then relax your hands slightly and repeat the movement. This action can be done 6-8 times.
Soothing shoulder and neck pain stretching action: looking up
Sit up in a chair with your stomach closed, look in front, put your hands on your thighs, slowly tilt your head back, look at the smallpox for 5-8 seconds, then slowly nod down until your head sinks and your eyes Looking down, the same for 5-8 seconds. Repeat the action 4-5 times. Pay attention to keeping your movements slow.
Sit on the chair with your chest closed, your hands clasped in the back pillow position, open your hands, feel the shoulder blades clamped on both sides, head slightly upward, maintain movement for 12-15 seconds, take 3-5 breaths, and then restore. Repeat the action 3-4 times.