Fat Kam Karne Ke Liye Iss Tarah Ka Khana Khaye
10 Amazing Eats to Reduce Body Fat : As time is changing, so the diet of people is changing from living to living. This is why many people now leave morning breakfast thinking that they are getting fat. Many people do not eat all day for being thin. They think that if they eat food, they will become obese. Obesity is seen by most girls as serious. That is why she considers it better to stay away from food. But this is his biggest mistake. If any person wants to reduce obesity and thinks that he will slim down by eating or not eating, then this is his biggest mistake. Because not eating food only brings weakness. So this information is for those people who want to slim down without leaving food.
Today we are going to tell you about such things. Which you can eat in breakfast in the morning, you can also make your health and be thin.
1. Benefits of Almonds
Who does not know about the benefits of almonds. These nuts, rich in protein, do not allow fat to accumulate in the body along with building muscles. If you eat lightly fried almonds with milk in the morning, then you can get rid of obesity and can also make your health.
2. Egg energy
If you want your morning to be very good and healthy, then you should not forget to eat two boiled eggs at breakfast. Because eggs will give you energy throughout the day as well as will not allow you to become fat.
3. Reduce fat from oatmeal
Consuming oatmeal in the morning breakfast is very beneficial. The amount of fiber present in it reduces body fat. By eating it, you feel full of stomach for a long time, which ends your desire to eat something again and again before lunch. Also, the growing fat is lost.
4. Amazing Upma Kamaal
Suji's Upma is also a healthy breakfast for weight loss. It has many antioxidant properties which are helpful in reducing weight. Eating it does not cause hunger for a long time, by eating it you can avoid unwanted food.
5. Gram Protein
You can include it in your breakfast in the morning by soaking black or kabuli chanas at night. By doing this you can get more protein and vitamins. Chanas have a lot of energy. You can avoid unwanted obesity by eating it.
6. Sweet Potato
To lose weight, you can use sweet potato in the morning breakfast. Sweet potato contains a very high amount of carbohydrates, as well as being rich in fiber. It removes the fat stored in the body. And increases the risk of obesity.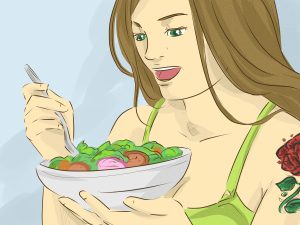 7. Vegetable Sandwich
Breakfast includes breakfast with raw vegetables such as tomatoes, cucumber, beetroot, onions, and also helps in reducing weight. You can make your day better by adding it to your diet.
8. Curd for breakfast
Eating curd also keeps the digestion process right, besides it is also beneficial in reducing weight. You can eat curd with less oily paratha in the morning.
Also Read : 8 Easy Tips to reduce Belly fat.
9. Soya and Tofu Protein
Tofu and soy have very low calorie fat, in which protein is found in plenty, its intake does not accumulate fat in your body, and also does not increase weight. So use it in your breakfast from tomorrow.
10. Give emphasis to liquid diet
Liquid weight gain more in weight loss and vegetables are very beneficial. So from today, take the juice of your favorite vegetables, mix salt and lemon juice in it and then consume it. Your breakfast will be tasty with all these food, you will be full of energy throughout the day and your fat will also be reduced.