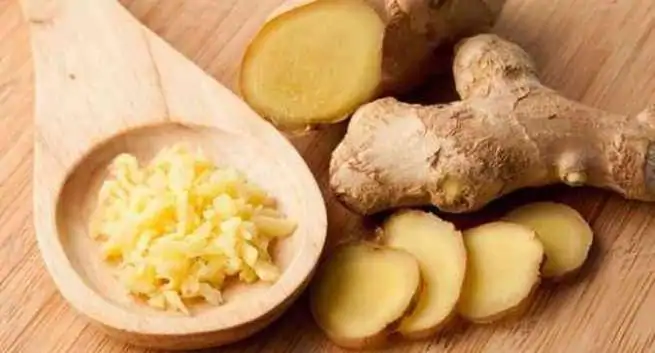 Aise Adrak Kha ke Motapa Ghataye
Do you know that ginger has properties that help in losing weight? Yes, it stimulates digestion and suppresses the appetite, thereby ending your desire to eat more.
Ginger is used as the main ingredient in almost every Indian kitchen. Ginger is used in everything, whether to put in vegetables or to remove sore throat. However, its effect is hot, so it should be consumed in small amounts in summer. Ginger has anti-inflammatory, anti-bacterial, etc. properties. Drinking ginger water can prove beneficial if you have frequent problems like colds, colds, and swelling. Do you know that ginger has properties that help in losing weight? Yes, it stimulates digestion and suppresses the appetite, thereby ending your desire to eat more.
In such a situation, it is also known to reduce weight. Actually, by using ginger in various forms you can also reduce your weight. If used with other materials, you can meet your weight loss goal. Know, which things you can reduce your weight by using ginger.

How Does Ginger Help in Losing Weight? (Adrak kiase Madad Karta hai Wazan Ghatane me)
Ginger contains a compound called shogaols and gingerols. When you consume ginger, these two compounds increase biological activities. The antioxidant properties present in it fight free radicals, thus reducing the problem of inflammation. A study has revealed that people who consume ginger tend to feel full longer than those who do not eat it. It has a special effect mainly from hip to waist. The compound gingerols present in it also keep the blood sugar level stable.
Very few people, especially women, know that lemon and ginger water plays an important role in reducing weight. Many women do not know the right way to take it. This water boosts metabolism. Both lemon juice and ginger are known to reduce appetite. This prevents you from overeating. First of all, mix lemon and its juice according to your taste and put it in a glass. After this, pour as much water into the glass as you need to drink. By drinking lemon and ginger water in this method, your abdominal fat will work soon. Also, make Ginger Tea. Drink lemon juice mixed with it. This will make you feel full for a long time and you will also remain hydrated. You can take them thrice a day.
Use Ginger Water Or Juice: (Adrak ka Juice)
Ginger water is also beneficial for reducing weight. Not only this, but this water also keeps blood sugar under control, which does not cause diabetes. So if you feel that you may be suffering from diabetes, then start drinking ginger water today. Drinking reduces appetite, which helps in reducing weight. In this juice, you add honey, lemon, and water. They have hydrating, immune-boosting, and antioxidant properties.
Apple Cedar Vinegar And Ginger : (Sirka, Apple cider aur Adrak)
The Apple Cedar Vinegar works surprisingly when it comes to losing weight. When you drink apple cider vinegar by adding it to Ginger Tea, it enhances the anti glycemic and antioxidant properties present in both things. Blend both of them together in a mixer or drink cold tea and add vinegar to it
Drinking more ginger tea can cause these advantages ( Ginger Tea Ke Fayde)
Green Tea And Ginger
Everyone knows that green tea helps in reducing weight. Boosts your metabolism and has many other health benefits. When it is added to green tea, its weight loss benefits are increased. Mix the two things together like add a piece of green tea while making it. You can drink it 2-3 times a day to lose weight.