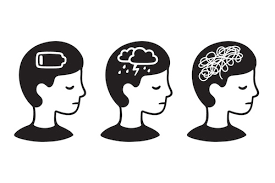 Mansik Rog – Mental illness refers to many mental health conditions – disorders that affect your mood, thinking and behavior. Examples of mental illness are depression (depression), anxiety, schizophrenia and eating disorders. Many people have mental health problems from time to time but it becomes a mental illness when its symptoms often cause stress and affect your ability to function. Mental illness can make you very unhappy and cause problems in your daily life, such as problems in school or work or relationships. In most cases, symptoms can be managed with a combination of medications and talk therapy (psychotherapy).
Types of mental illness:
How many types of mental illness are there?
There are many types of mental diseases. Some of its variants are as follows –
Bipolar disorder
Alzheimer's disease
Dementia
Parkinson's disease
Autism
Dyslexia
Adhd
Depression
Tension
Anxiety
Blood disorders
Manograsita obligation disorder
Post Traumatic Stress Disorder
Weak memory
Alzheimer's
Fear (phobia)
Delusion
Hallucination
Symptoms of mental illness:
Symptoms of mental illness can vary depending on its type, circumstances and other factors. Symptoms of mental illness can affect feelings, thoughts and behavior. It has the following symptoms –
feel depressed.
Distraction or loss of ability to concentrate.
Feeling extreme fear or concerns or feelings of guilt.
Extreme mood changes.
Separating from friends and other activities.
Fatigue, low energy or problems sleeping.
Distract from reality (confusion), madness or hallucinations.
Inability to cope with daily problems or stress .
Problems and understanding of people and people.
Alcohol or drug abuse.
Major changes in eating habits.
Libido changes
Excessive anger or violent behavior.
Suicidal thinking
Sometimes symptoms of mental health disorder appear as physiological problems such as abdominal pain, back pain , headache or other unexplained pain.
Also Read – What is shock therapy and when to give it to mental patients?
Causes of mental illness:
Why do mental illnesses occur?
Mental diseases are, in general, thought to be caused by various genetic and environmental factors. These factors are –
Heredity
Mental disease is more common in people whose relatives also have a mental illness. Certain genetic factors may increase your risk of developing mental illness and your life situation may initiate it.
Exposure to certain environmental factors before birth:
Environmental stress in the womb, exacerbating conditions, exposure to toxins, alcohol, or drugs can sometimes cause mental illnesses.
Brain function
Neurotransmitters naturally carry brain chemicals to your brain and other parts of the body. When the nervous systems associated with these chemicals do not function properly, changes occur in the nervous receptors and nervous system leading to depression (depression).
What are the risk factors for mental illness?
Certain factors may increase your risk of developing mental health problems, including the following factors:
Parents or siblings or people with any other blood relationship having mental illness.
Experiencing a stressful life situation, such as financial problems, someone's death or divorce.
A chronic medical problem such as sugar disease  (diabetes).
Brain damage as a result of a severe injury (traumatic brain injury).
Traumatic experiences, such as war or attack.
Use of alcohol or drugs.
Experiencing childhood abuse.
Having only a few friends or a healthy relationship.
An earlier mental illness.
Also Read – This is How You Can Be Mentally Strong and Face Challenges
Prevention of mental illness:
There is no sure way to prevent mental illness. However, if you have mental illness, controlling stress and increasing self-esteem can help. For this, keep the following points in mind –
Pay attention to the warning signs – talk to your doctor about which conditions can trigger your symptoms. Make a plan so that you know what to do if you experience symptoms. Contact your doctor if you experience any changes. Also notify family members or friends to see the warning signs.
Get regular medical attention – do not stop going to the health doctor, especially if you are not feeling well. You may have a new health problem that needs treatment or you may experience side effects of the medication.
Get help – Treating mental health conditions can be difficult if you wait until the symptoms worsen. Long-term treatment can help prevent symptoms.
Take care of yourself – Adequate sleep, nutritious diet  and regular exercise are important. Try to maintain a rule. Talk to your doctor if you are having trouble or if you have any questions regarding diet and exercise.
Diagnosis of Mental Illness
To check the diagnosis of mental illness and related complications, the following tests can be done –
Physical Examination In
physical examination, your doctor will try to overcome the physical problems that can cause your symptoms.
Lab tests
Lab tests can be done to check your thyroid or to check for alcohol and drugs.
Psychological Assessment In
psychological assessment, your doctor asks you about your symptoms, thoughts, feelings and behavior. You may also be asked to fill in a questionnaire.
Mental Illness Treatment:
Treatment of mental illness is as follows –
1. Hospitalization Necessary hospitalization Treatment of mental illness usually includes stabilization, monitoring, medication, fluid and nutritional care, and other urgent emergency care.
A person needs to be hospitalized when –
They have severe mental health symptoms.
Hallucinations or delusions.
Have suicidal ideation.
Did not sleep or eat food for many days.
No ability to take care of oneself due to symptoms of mental health.
2. Psychiatry There are many different types of psychotherapy available for mental illness, such as –
Personalized therapy – Individualized therapy is psychotherapy where a person uses his or her therapist to explore a range of emotions, sorrows, and other mental health problems using a variety of different strategies and methods.
Group therapy – Group therapy usually consists of a physician lead and consists of many people.
Family Medicine – In Family Psychiatry, family members meet with a physician to resolve issues.
Cognitive Behavioral Therapy – Cognitive behavioral therapy is the most common psychotherapy. It can be used at the individual, group or family level. In this therapy, physicians try to replace the patient's abnormal thoughts and behaviors with positive thoughts.
Dialectical behavior therapy – In this psychotherapy, the emphasis is on accepting and validating unhealthy thoughts, feelings and behaviors and trying to strike a balance between acceptance and change.
Interpersonal therapy – Interpersonal treatment solves problems in people's relationships and teaches new interpersonal and communication skills to improve the quality of relationships.
Also Read – Mental Health Basics: Types of Mental Illness,Insanity and Symptoms
3. Medications can be used to treat symptoms of mental illness. Medications are often used in combination with psychotherapy. Medications used for mental illness are the following –
Antidepressant drugs.
Anti-anxiety drugs.
Mood Stabilizers.
Psychotropic drugs
4. Alternative Treatment
Following are some alternative treatments for mental illness –
Yoga
Care
nutritious food
work out